10/29/2018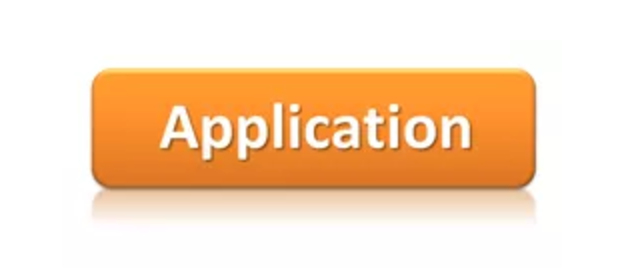 How to Find a Belgian Malinois Breeder…A Good One.
The other day there was a family that was looking for a new puppy. They were responsible folks that had just bought a home. Did all their research on the breed and were looking for breeders. A good breeder contacted them back and discussed what their goal was with this new puppy. After breeder determined it was a 'good fit', puppy placement was completed and everyone was happy.
Make Sure Breeder Has the Puppy's BEST INTEREST at Heart
How to Avoid 
BIG MISTAKES
A different time there was a different family looking for a puppy. This family, however, didn't do much research on the breed. When they searched for puppies, no reputable breeder dared to call them back. Only a few backyard breeders returned their calls but sounded ruff which turned them off. At the end, they gave up searching for their dream puppy and remained unhappy.
Moral of The Story
If you are searching for your next companion/working dog and want to avoid being rejected by quality breeders like the second family was, you need to have a fair knowledge of the breed and pay attention to what you'll read here.
Finding A Good Puppy
Good puppies come from experienced breeders and they are the result of many years of work and dedication. A good puppy is a bundle of genes programmed with desired qualities and good health.
How To Prevent Going Through A Bad Breeder Experience?
In the dog world, there are good and bad breeders. Bad breeders have no interest in the future well-being of their puppies nor where they end. The best breeders in corollary seek the best for their puppies. It's important that you are able to discern one from the other.
When Acquiring a Puppy

Used

to Be Safe…It's Not So Anymore
In the past breeding was a craft left to professionals. It was and still is a sophisticated art such as wine making is today in which requires a knowledgeable and experienced person. In wine-making, knowing what strains of grapes to use, the fermentation process, what temperature, what timing, what filters to use, what additional fruits and ingredients to add to achieve desired taste and many other details is critical to producing a fine batch of wine (science of wine-making is actually called 'oenology' btw).
Do Your Part… Protect the Breed By Doing RESEARCH.
Breeding dogs and producing a fine litter of puppies for the desired purpose is the same. You need to know what traits and genes you need based on what temperament you want to achieve. You need to study the lines, genealogy, and history in depth to choose the ideal parents. Things which many if not most dog trainers/breeders in the U.S. when asked, don't know much about. This contributes to excessive inbreeding, wrong breeding, and ill-breeding causing the gradual deterioration of the breed. And just like all other breeds that have become popular in America, they begin a tragic downward spiral and decline in performance and health. Let's not let that happen this time to the Belgian Malinois!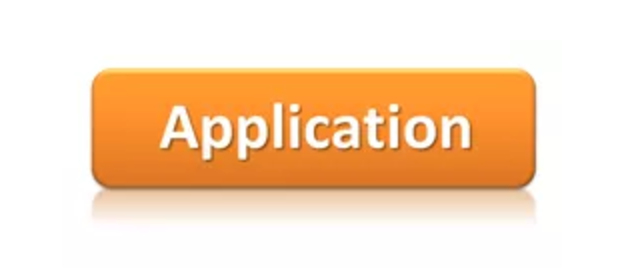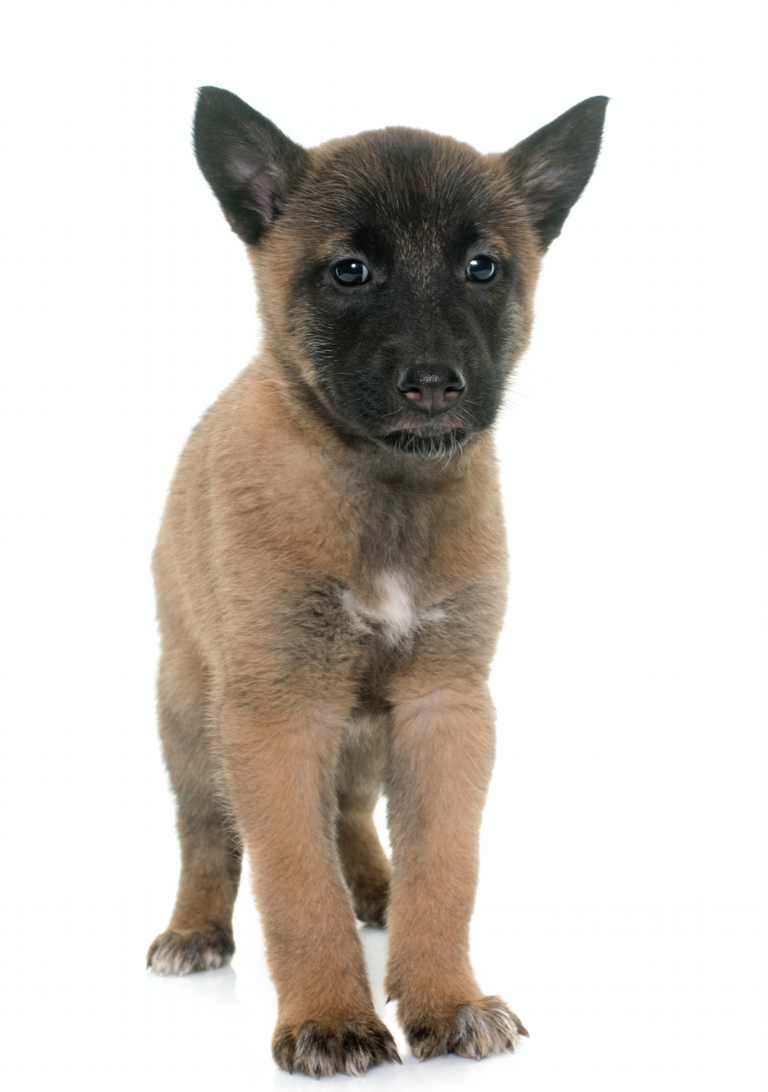 Quality Belgian Malinois Breeder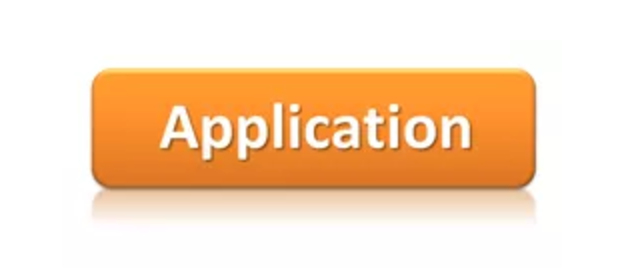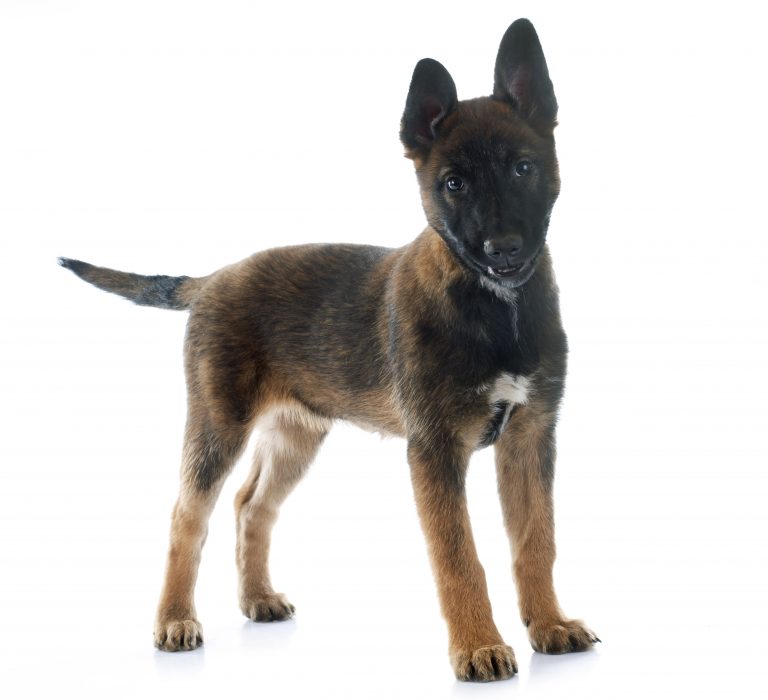 Here You Will Find Exemplary Specimens of the Breed
(So You Know What To Look For In A Puppy)
Pictures of our puppies have been attached to this page to help you know what to look for in a well-bred Malinois. Pups pictured are the product of fine selection and genetics. They are the result of diligence, hard work, skill, and research. Use them as a benchmark for your puppy searching journey. Pay special attention to their coat color variations, their markings, dark faces, and ears. In videos below also note their temperament and personality.
.
Reddish Coat Ada
(Property of George from Arizona)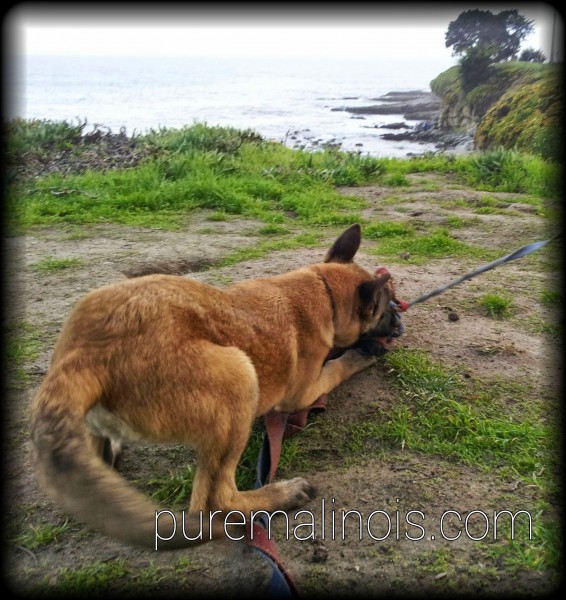 .
Red Coat with Accented Black Tips Along His Back
(Property of Edgardo from San Diego, California)
.
(Property of Carmen from Los Angeles, California)
.
Bruneshilda's Mahogany Coat
(Property of Glenn from Sunnyvale, California)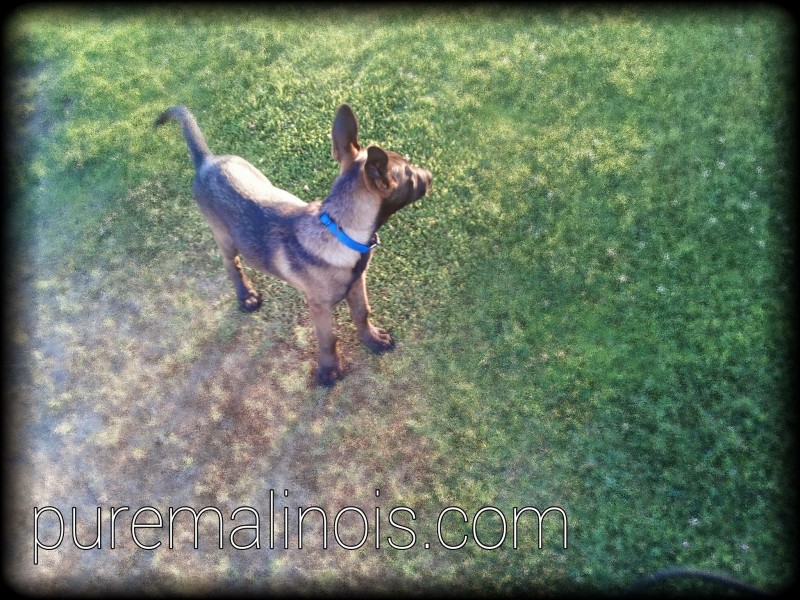 .
Dark Face with Intense Dark Mahogany Coat
.
Bruneshilda Again with her Beautiful Markings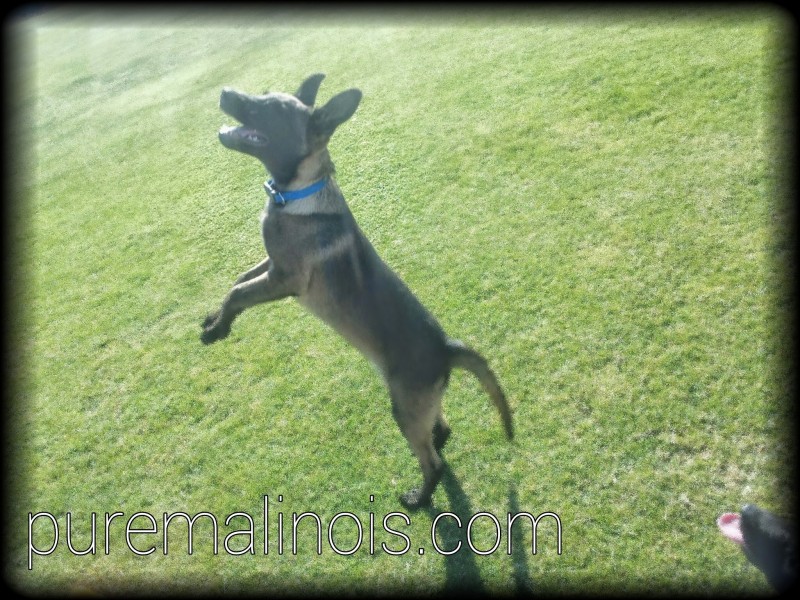 .
All Bred With Intention and Purpose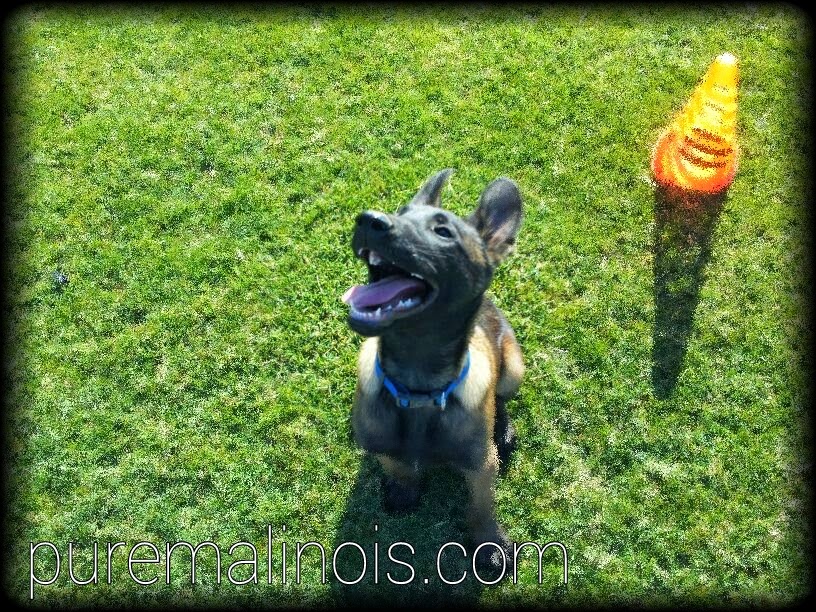 .
Racing Red/Fawn Malinois Puppy
.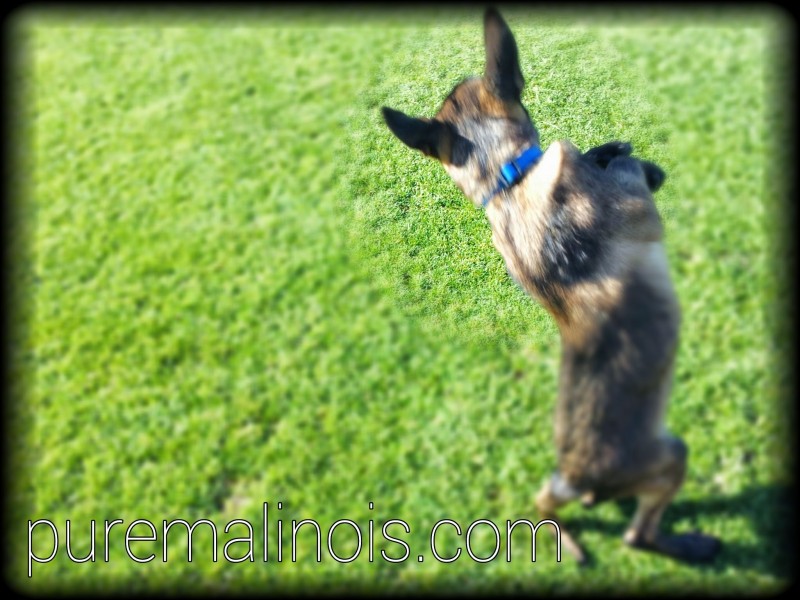 .
Very Nice Solid Bite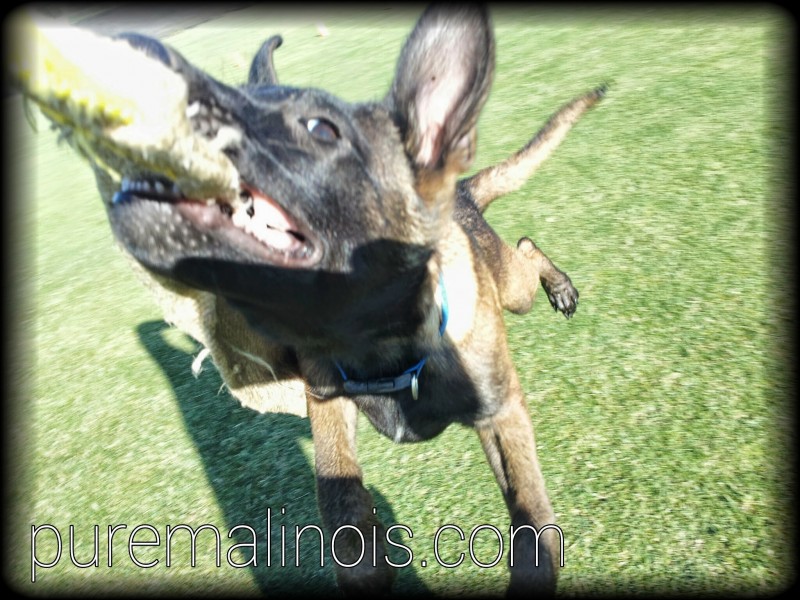 .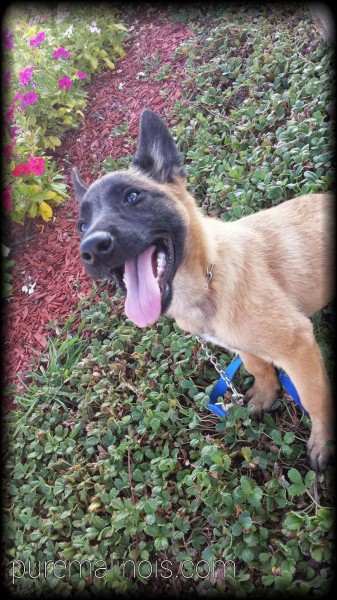 .
Health, Well-Being and Longevity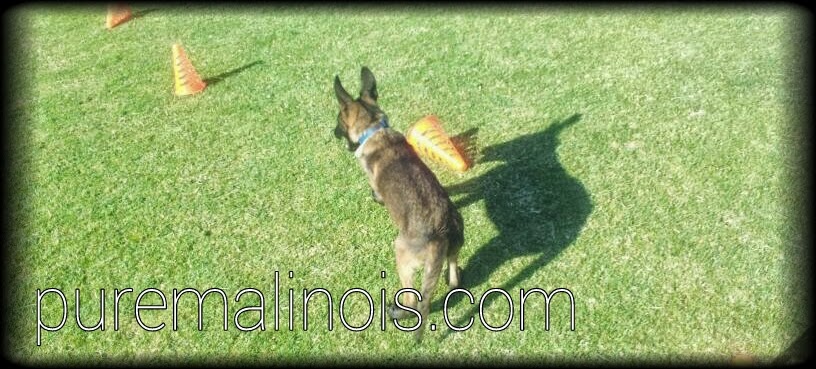 .
Representative of Beauty and Performance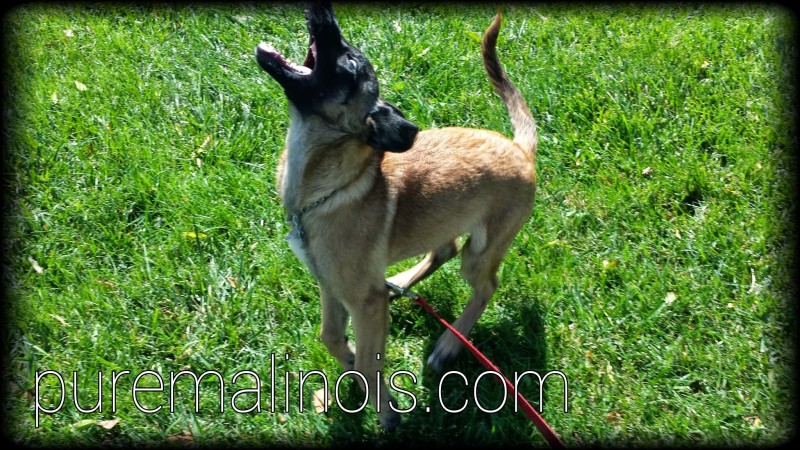 .
Elegant Longer Haired Malinois Puppy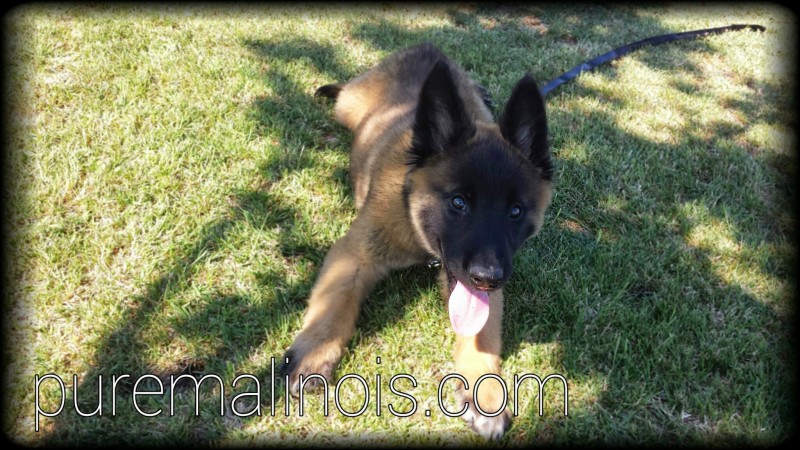 ---
What People Say About the Breed
My wife and I currently own an English Bulldog. She is, needless to say…lazy, stubborn and (don't tell my wife I said this) entirely unintelligible. As for myself, I am much more active and looking for a non-lapdog companion. I want a dog that will be able to go on mountain hikes/runs with me, highly trainable and able to protect the home. I am interested in a shepherd without the shedding of a German or an Australian. I spend a lot of time in the Colorado Rocky Mountains where there are lots of big cats and brown bears and I need a fearless dog that can distract a large prey animal long enough for me to get a shot off should the need arise.

John from Denver, Colorado
I fostered an older Malinois puppy whose owners could not handle anymore due to her aggression toward their older dog. I enrolled her in obedience classes, private obedience lessons with a noted Malinois agility shower, rally class, nose work private lessons with a top teacher, and taught her dock diving, taught her on my home agility equipment, and taught her a number of tricks just for fun. I was amazed by the speed at which she learned, and delighted by her work ethic, intensity and focus. She was gentle and respectful with my old shepherd and played nicely with my energetic standard poodle. She is now working with a police department. I miss her and miss the fun we had at all the classes, on group dog hikes, and just playing at home.

Dubose from Concord, California
---

Continue…
♥
The whole reputation of the breed is dependent on who owns them, hence the reason why we are always careful where each one is placed. Each puppy placed has a file kept with us for record purposes and to assure the integrity and high reputation always been known for is assured.
Info
If you're interested in a Belgian Malinois puppy for sale, start by submitting the application below. We will contact you to talk about suitability and go from there.
Out of State
We prefer local, but when necessary we use safe airfare directly to a local airport. Families and individuals from
Anchorage, Alaska…
Seattle, Washington…
Phoenix, Arizona…
Las Vegas, Nevada…
Denver, Colorado…
Boise, Idaho…
Salt Lake City, Utah…
and Vancouver, Canada
…are ALL welcomed to apply.
We don't send our pups east of the Mississippi River.
And although we are primarily known as west coast Belgian Malinois breeders that provide quality Belgian Malinois puppies for sale in California…our clients are located all over the western states.
More likely when someone is searching for Belgian Malinois Breeders Northern California, we are the top choice…
We also have clients down the California Coast…
And in the Southland, we are the preferred Belgian Malinois Breeders in Los Angeles for those living in Southern California…
Goes without saying that we enjoy serving the military and border patrol communities of America's Finest City… we are the top choice for Belgian Malinois Breeders in San Diego.
…
Puppy Available
Female, 14 weeks, Fully Immuned, rated a level 7-8 on the Malinois Meter for intensity (of 1-10), Crate Trained, Trained to walk on Leash W/o Pulling, Good on car rides, Apply Below
https://www.youtube.com/watch?v=FxRX6gsnZ8khttps://www.youtube.com/watch?v=FxRX6gsnZ8khttps://www.youtube.com/watch?v=FxRX6gsnZ8k
______________________________________________________________
ABOUT PUPPY APPLICATION
The purpose of our application process is to select ideal homes for our puppies. Our experience is that people who go through this end up with the right puppy for them and are happier. Deposits will be accepted if puppies are available. Click 'Application' icon for current details.
(Application process dependent on breeding schedule and puppy availability. The right to not place a puppy with homes deemed not ready for the breed is reserved. We'll consider first-time Malinois owners on case by case basis. Active/Retired military/police or patients of PTSD therapy are encouraged to apply. Contact for the availability of trained young puppies 4-15 months and skip the baby stage. To care and protect for the breed- homes sought for are those that share the same philosophy prescribed here.)

Credit Card, Paypal, and Bank Transfers Accepted
Malinois K9 Association
For Northern California & Pacific Northwest (WA/OR)
Stoneridge Mall Rd
Pleasanton, CA 94588
(925) 264-5209
For Southern California & Southwest (AZ/NV)
S Sepulveda Blvd
Los Angeles, CA 90034
(310) 957-2088
Rate Your Experience
Summary
One of our goals in this website is to provide quality information and content to help Malinois owners better care for their dogs and to prepare new owners interested in acquiring one. If this site was helpful, consider giving us a 5-star rating so that we know we are doing good.
[button_1 text="Puppies%20Available" text_size="24″ text_color="#000000″ text_bold="Y" text_letter_spacing="-1″ subtext_panel="N" text_shadow_panel="Y" text_shadow_vertical="1″ text_shadow_horizontal="0″ text_shadow_color="#ffff00″ text_shadow_blur="0″ styling_width="57″ styling_height="20″ styling_border_color="#000000″ styling_border_size="1″ styling_border_radius="6″ styling_border_opacity="19″ styling_shine="Y" styling_gradient_start_color="#ffff00″ styling_gradient_end_color="#ffa035″ drop_shadow_panel="Y" drop_shadow_vertical="1″ drop_shadow_horizontal="0″ drop_shadow_blur="1″ drop_shadow_spread="0″ drop_shadow_color="#000000″ drop_shadow_opacity="50″ inset_shadow_panel="Y" inset_shadow_vertical="0″ inset_shadow_horizontal="0″ inset_shadow_blur="0″ inset_shadow_spread="1″ inset_shadow_color="#ffff00″ inset_shadow_opacity="50″ align="center" href="http://puppies.malinoisk9association.com" new_window="Y"/]
Click yellow button above to access puppy application.
—————————————————————————————————————–
Other Helpful Info
————-
Local Dog Trainer Directory:
(NOTE: If you're a local dog trainer and would like to be added to our local dog trainer directory, you may contact us here.
We are always looking for good quality dog trainers with experience with Malinois that we can personally recommend to our clients seeking a trainer for their Malinois in the western United States..)
Washington State Malinois Dog Training – [recommended dog trainer url goes here]
Seattle/Tacoma Spokane
Oregon Area Malinois Dog Training – [recommended dog trainer url goes here]
Portland Medford/Ashland
Sacramento Area Malinois Dog Training – [recommended dog trainer url goes here]
San Francisco Bay Area Malinois Dog Training – http://www.albree.com/
San Jose Area Malinois Dog Training – [recommended dog trainer url goes here]
Fresno Area Malinois Dog Training – http://www.happydogbasics.com/faq.html
Los Angeles Area Malinois Dog Training – http://www.karmadogtraininglosangeles.com/puppy_kindergarten_class_schedule.aspx
San Diego/Chula Vista Area Malinois Dog Training – http://pawtopia.com/
Nevada Area Malinois Dog Training – [recommended dog trainer url goes here]
Reno
Las Vegas
Idaho Area Malinois Dog Training – [recommended dog trainer url goes here]
Boise/Nampa
Pocatello
Utah Area Malinois Dog Training – [recommended dog trainer url goes here]
Salt Lake City
Provo
Colorado Area Malinois Dog Training – [recommended dog trainer url goes here]
Denver
Arizona Area Malinois Dog Training – [recommended dog trainer url goes here]
Phoenix
Canada Area Malinois Dog Training – [recommended dog trainer url goes here]
Vancouver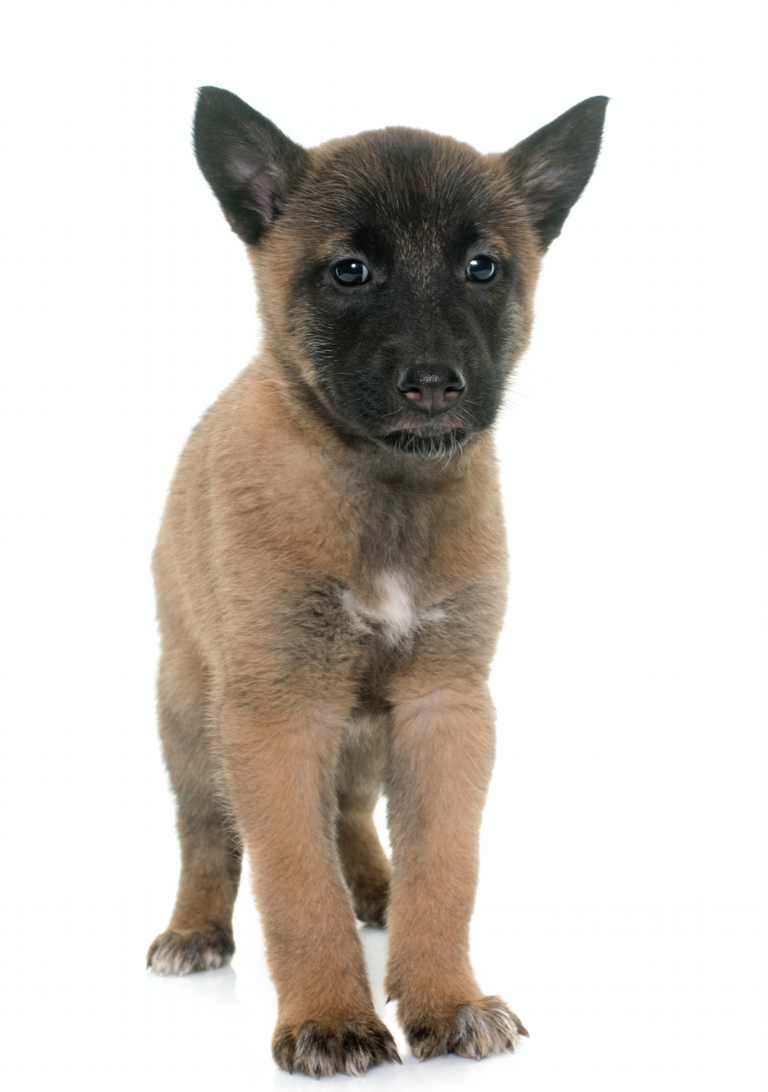 ————————————————————————-
FAQ
Do un-vaccinated 'holistic' raised puppies get sick?
We approach dog health in a systematic manner. The truth to raising healthy dogs lies in being true to the dog's biologic nature by providing key nutrients, keeping parasites in check and eliminating 'immune debilitating' toxins from the dog's environment. The dog will naturally build immunity required against viruses, bacteria and other illnesses such as Parvo. A truly healthy dog doesn't require most vaccinations. Read article 'The Dangers of Vaccinations"
How did holistic healthcare in your approach to dogs came about?
As avid learners, we are always on top of our game in relation to working with healthy and top-performing dogs. Because it's in our best interest to get the most years out of our trained working dogs before retiring them, we have studied and worked along with holistic veterinarians and experimented by trying different methods to prolong the lifespan of our dogs and keep them as active working dogs as long as possible. And we have found it very beneficial to the dog's health and quality of life to be on a holistic lifestyle.
What are the benefits of not vaccinating a puppy?
Longer living dog, less illnesses as the dog ages, less likely to develop cancer/autoimmune disorders/allergies/diabetes/skin issues, less heavy metals in your puppy's system, smarter dog, and finally its just doesn't make sense to submit a dog to all the toxins and chemicals found in vaccines. This has been our experience.
Will I ever need to vaccinate my puppy?
In our experience, no. As long as you continue with a healthy holistic lifestyle, no vaccinations will be needed; However, it's wise to consult with a licensed holistic veterinarian for a more accurate response. The only vaccination required by law in most counties is the rabies shot. And there are a few herbs you can use to remove the toxins safely from the dog's system afterward.
Are your holistic puppies reared in kennels?
We are not a typical kennel where dogs spend their days inside a cage. Our dogs are raised in homes. Whether it's at our home or fostered in another home, they are home raised. We have experienced that home-raised puppies are more connected to their handler and easier to train. We don't like kennels nor cages, and we don't use them as our dog's main living quarters.
If I don't want to follow the holistic lifestyle, can I decide to vaccinate my puppy and go the conventional route?
There is no obligation to follow our natural approach to dog health. We can only share our direct experience and knowledge of what has worked for us in relation to healthier, longer-living dogs and you make the final decision. Although we secretly desire for more dog owners to follow the healthier alternative.
What books do you recommend on holistic lifestyle for dogs?
On the menu of this website, there should be a tab to find books to get you started on holistic healthcare for dogs.
Is a Belgian Malinois good with family?
A Belgian Malinois with the correct temperament to match its handlers' can be very good with the family.
Are first-time Belgian Malinois owners considered for placement of a puppy?
It depends on other breed experience and activity levels of prospective dog owner as well as puppy's energy and intensity levels. The only way to find out is to fill out the questionnaire.
Will a Belgian Malinois make a good couch potato or lap dog?
Not at all. Not as a 'couch potato' or 'lap dog' as its sole purpose. Although many Belgian Malinois do enjoy having a good snuggle moment with their handlers after exercise, and some to a higher degree than others, don't expect them to be primarily a 'lap dog'. I recommend something else like a Bull Dog or a Pug instead if that's what you're seeking. Malinois are rather for the active, outdoorsy, sports oriented family or for active police, veterans, and trainers.
Will a Belgian Malinois make a good PTSD dog?
A properly picked puppy with the right temperament for PTSD can be a great service dog for veterans and non-veterans sufferers of PTSD.
Will a Belgian Malinois protect livestock?
A properly socialized and trained Malinois can protect livestock.
Will a Belgian Malinois make a good guard dog?
As long as its physical and mental needs are met, they will be great guard dogs for homes. Keep in mind they will need mentally challenging activity as well.
Will a Belgian Malinois destroy my house?
If you don't stimulate a Belgian Malinois enough to meet its mental and physical needs, then yes. They will more likely destroy your house. However, if you have its exercise and mental needs met, that shouldn't be an issue at all. That's why it is important that you are matched with a puppy with the energy levels that match your activity levels. If you are very active, then a more active dog will fit you right. If you are more relaxed, then a lower energy dog would be better.
Is a Belgian Malinois hard to train?
Not at all. It's easier to train a Malinois than most other dog breeds. They are intuitive by nature.
Is it true that all Belgian Malinois are too much to manage for the normal person?
The only way this can happen is by not properly matching the handler's lifestyle with the dog's energy levels. If you are properly matched with a suitable dog, then this will not be an issue. However if someone made the mistake to choose a Malinois puppy based on looks rather than personality, then more likely they might have overlooked the intensity levels of the dog.
What are the advantages of a Belgian Malinois over a German Shepherd?
In our opinion, many to list. A Malinois is more compact in size. Risks for Hip problems are minimal compared to the German Shepherd. Malinois are a healthier breed overall. Have not been overbred, or ill-bred as much as German Shepherds. Lines in Malinois tend to be purer, not many people have them. Have shorter hair, easy grooming. Adaptive to cold and hot climates. Are willing learners. Are associated with being police dogs by strangers making great thief deterrents.
What are the breed's genetic health risks?
Belgian Malinois are overall a healthy breed. However as with all breeds, there are genetic tendencies, and some of those are hip dysplasia and eye problems. Although the risks are minimal, they are still there; To their merit- nothing compared to the health risks of other popular breeds such as Rottweilers, Dobermans, and German Shepherds.
Can a Belgian Malinois be good with children?
If properly socialized and chosen, yes.
What's the difference between kennel raised puppies and home raised puppies?
We think that puppies are better raised at home because they are immersed 24/7 with people and to what people do regularly home on a daily basis (since people is who they are going to live with anyways for the rest of their lives). Kennels as used by commercial breeders to store, house and raise puppies are not recommended because the 'human factor' is removed. Further- in our experience, home raised puppies are the easiest dogs to train due to having developed a close human connection and are able to better read human facial gestures, voice tone and body language. A puppy raised away from people at hours at a time can become harder to train and are often disconnected from their handler.
Why are puppies placed at a minimum of 10 weeks old instead of at 7-8weeks old?
There are many things that are needed to do to make sure the puppy is imprinted properly before its ready to go into its permanent home. There's no rush to place puppies. It's better to take the time and allow the puppy to develop fully in a healthy environment before deciding which home to place with. Also, the extra 2 weeks allows the puppy to be exposed to different areas and public places and make sure its immune system is developed and ready to go into the world. Also, by keeping puppy two more weeks allows to play, interact and know the puppy's personality, which will help decide what role/home would be best for that puppy.
What is the goal of breeding?
When breeding the goal is to improve the working dog and retain top talent out of each breeding to train and further our Malinois- Breed Betterment Project. Further, breeding allows the development of new dogs that will replace retiring dogs, and it alleviates any stress accumulated on active working dogs which improve their concentration and performance.
Are first-time Belgian Malinois owners considered for the placement of a Malinois puppy?
It's determined whether someone is ready for a Malinois puppy by asking questions that reveal prospective owner's habits, lifestyle, and past dog experience. This will help discern better whether a Malinois is a good fit, and if so, that information can be further used to determine the intensity and energy levels best compatible for them.
——————————————————————
Holistic/Alternative Veterinary Services
(NOTE: If you're a local dog trainer and would like to be added to our local dog veterinarian directory, you may contact us here.
We are always looking for good quality holistic healthcare veterinarians that we can personally recommend to our clients seeking a trusted vet for their Malinois in the western United States..)
Washington State Holistic Veterinarians
Seattle and Bellingham >>
http://www.wholepetvet.com/ – http://www.holisticvetexpert.com/ –  http://petsynergy.com/ – http://holistic-pet-care.com/
httpv://www.youtube.com/watch?v=aN74pbDMbX0
Oregon Holistic Veterinarians
Portland and Ashland/Medford >>
http://animalkindvet.com/ –  http://www.holisticpetvetclinic.com/ – http://www.healingpawscenter.com/ – http://www.healingpawscenter.com/,
California Holistic Veterinarians
Sacramento >>
http://integrativeveterinarycenter.com/ – http://meridianvetcare.com/ – http://www.animalwellnesscenterdavis.com/
San Francisco/Oakland >>
http://www.sfhealthypets.com/ – http://www.wagsnwellness.com/ – http://www.coastalholistic.com/ – http://creaturecomfort.com/ – http://www.holisticvetpetcare.com/index.htm
San Jose >>
http://www.thewholepetvet.com/index.htm
Los Angeles >>
http://www.theholisticvet.com/ – http://limehousevetclinic.com/ – http://www.marinavet.com/
San Diego >>
http://www.chaivet.com/index.html – http://www.kensingtonvet.com/ – http://healinghope.net/
Idaho Holistic Veterinarians
Boise >>
http://animalhealingboise.com/ – http://aulternatives.com/ –
Utah Holistic Veterinarians
Salt Lake City, Provo >>
http://www.millcreekvetclinicut.com/ – http://www.animalhealthoptionsvet.com/home/ – http://www.utahanimalcarecenter.com/ –
Nevada Holistic Veterinarians
Las Vegas and Reno >>
http://www.lakesideanimalhospital.com/ – http://www.holisticpetdr.com/index.php
Arizona Holistic Veterinarians
Phoenix, Tucson >>
http://www.apahvet.com/homepage.pml – http://naturalalternativesvet.com/ – http://www.integrativeveterinarian.com/ – http://theholisticvet.net/index.html – http://holisticvetservices.com/
American Holistic Veterinary Medical Association
——————————————————————
What's the difference
ABOUT PUPPY APPLICATION
The purpose of our application process is to select ideal homes for our puppies. Our experience is that people who go through this end up with the right puppy for them and are happier. Deposits will be accepted if puppies are available. Click 'Application' icon for current details.
 between puppies bred from 'Kennel Dogs' and 'Active Working Dogs'?
Is A Malinois Right For You?
There are many dog breeds. But out of ALL dog breeds which one is the best one for you?… To clarify, there is no BEST BREED but only the RIGHT BREED. Depending on your purpose, one breed might be better suited than an other for you. If you want solely a lap dog, then a Belgian Malinois would NOT be adequate. Most choose a Belgian Malinois because of their qualities that is not found easily in other dogs- the same reason why its the preferred breed by dog trainers, law enforcement, and military. Qualities that make them attractive such as their intelligence, drive, compact size, long lifespan, trainability, low grooming requirements, and overall healthier than most breeds. Most previous Malinois owners can agree that once you go Malinois its hard to go back to anything else. Similar to the same experience you go through when switching from PC to Mac, you eventually can't go back. The breed's ease of handling, intelligence and obedient nature makes it the best fit for those seeking the same.
To Match a Puppy With its Right Home Its Wise To Have a Matching Process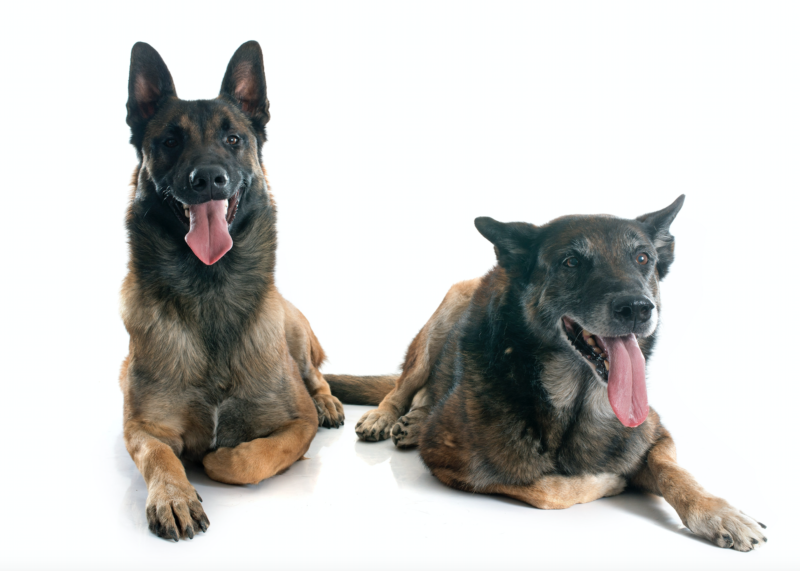 To better discern if a puppy is a good fit for your home and family, you will be asked a few questions in relation to your goals to better asses your situation.  A MALINOIS REQUIRES AN OWNER THAT IS 100% COMMITTED AND DEDICATED… All MALINOIS require training. Without training they can become destructive. They are very smart dogs, very protective and loyal. High Energy working temperament will only be placed with professionals. Lower Energy to Medium Energy puppies will be placed with active homes, veterans/non-veterans, PTSD Therapy, Emotional Support, First-time Malinois owners and other less intense homes.
As responsible MALINOIS breeders- there's no interest in placing a puppy into less than suitable homes. The whole reputation of the breed is dependent on who owns them, hence the reason why reputable places are always very careful where each one is placed. NOTE: A record of each puppy placed is always maintained for quality assurance, tracking purposes and to protect the integrity and high reputation always been known for. This allows dogs acquired to be traced and respond to any inquiries new owner might have for the lifetime of their dog ownership.
Information
If you're interested in a Belgian Malinois puppy start by submitting application below. When puppies are available, they are always home raised usually among vineyards or are on occasion fostered by 'paid' volunteer homes- and as always, are completely raised without the use of vaccines and in the best weather California offers (warm summers – mild winters). Most breeding dogs used are actual working dogs with proven history and are not kennel/breeding dogs sitting in a cage producing babies. Shipping is NOT recommended for puppies under 12 weeks. Dealing locally and in-person is preferred to better discern puppy suitability and to observe interaction with new family. Out of state residents coming from Washington, Oregon, Arizona, Nevada, Idaho, Utah and Canada (Vancouver) may travel as others have done in the past. Special arrangement can be made to see puppy's personality and determine suitability before planning trip out to California. Application
Unlike most breeders, our main focus is the training and the supplying of trained working dogs for professional applications and breeding as a secondary function to support that. In contrast however, for most breeders breeding is their primary purpose. Dogs might come from good champion lines and have AKC titles, however the quality of life of the 'breeding dog' is not a good one. 
5 Most Common Mistakes People Make When Looking for a BELGIAN MALINOIS PUPPY and What to Do About Them
Mistake number 1…Acquiring a puppy that is 'ill bred'. It's important that you make sure the Malinois puppy you're interested in is well-bred and has a good appearance and temperament. A puppy without the correct markings, that is TOO YELLOW or that is nervous or insecure is a bad bred puppy. A puppy with little to no face mask you should avoid. You don't want that. You want a courageous, confident, protective dog. You want a dog that has a good structure, good paw and bone size. Because the Belgian Malinois is hard to come by in the United States from reputable places, many breeders resort to breeding with whatever stock is available to them or from local Malinois owners or friends they know, producing an inbred subpar and frail-looking Malinois puppy.
Mistake number 2…Acquiring a puppy from a backyard breeder or, 'hobby breeder'. It's important that you look for puppies offered by professionals who work with the breed all the time and who train them, rather than someone who happens to have a male and a female to breed once in a while. Breeding and Training is an art. You need to have done it thousands of times before you are able to produce quality dogs. You need to have a variety of stock available to you to pick and choose the best traits to pass on. And as a trainer that works with the breed, you're able to know best what type of dog and temperament is desired to have a smart and obedient dog.
Mistake number 3…Acquiring a puppy from someone who doesn't interview homes. It's very important that the breeder shows interest in getting to know the new handler to make sure it's a right fit. Someone just looking to place puppies will not even care about you, your goals with your puppy, nor your living situation. Each puppy has a different personality and happy puppies are the ones placed with a compatible home.
Mistake number 4… Choosing a puppy based on price. If you're shopping for a puppy bargain and basing your decision mainly on costs, you should definitely save yourself problems and headaches waiting to be happened and not acquire a puppy at all. Any new puppy like any new family member incur unexpected costs such as crates, toys, bedding, etc. Being on a tight budget can further make it more difficult to give puppy a good life. And while on a budget you can be easily influenced to bad bred puppies indicated by its cheap price tag, which you should see as a ticking bomb of problems waiting to happen.
Mistake number 5…Acquiring a puppy from someone who doesn't sound knowledgeable. It's important that the person offering you a puppy has more knowledge than you do about the breed and can advise you on best practices for caring for your puppy. Someone who doesn't seem to know much is someone who you want to avoid.
.
2.5 Month old Laman, Lemuel, and Nephi
3 Males with reference names of Laman, Lemuel, and Nephi. Holistic raised same as Adina. Fully immuned, ready to be walked in public. No quarantine necessary. As all our dogs, raised w/o chemicals nor toxic vaccinations. Natural deworming. Socialized. Imprinted. They are being started on basic English commands and leash training. Very good drives. Beautiful full dark face and a dark chest (hard to produce combination). Avail. with or w/o AKC reg. Will be searching for the right homes starting now and they will be placed mid June 2014. Reviewing submitted questionnaires now. Slideshow pending to be uploaded We're professional Belgian Malinois dog handlers and we work and compete with the breed locally and abroad. We practice the sport known as French Ring, Schutzhund, and often work for Narcotic Detection, Border Patrol, and Law Enforcement Applications. We are serious about our work and passion, which you'll see reflected in our photos. We're producers of DarkFace Malinois; lines which we've d perfected over time in terms of beauty and solid temperaments. We have added a lot of information and photos to exhibit our exemplary specimens.
DarkFace Malinois
We work with lines- which we've been fine tuning and perfecting using quality imported blood, producing well-rounded Belgian Malinois dogs with FULL DARK FACES, DARK CHESTS and ACCENTED DARK-HAIRED TIPS on their backs. Take one of our pictures and compare them as you go through your puppy searching journey. We of-course would never sacrifice temperament for any physical markings, and in any case the temperament and fullness of the breed's purpose is preferred over physical beauty.
Integrity of the Breed
At this point in time in the breed's history in the United States, it's critical that we focus in maintaining the integrity of the breed. Observing the current American bred Malinois we notice how its starting to morph into something else… and if you're currently looking to acquire a Belgian Malinois puppy- this can affect the quality of puppy you may end up with. We travel abroad frequently for competition, breedings and importing new lines, and we see how other countries are very sophisticated and have highly optimized breeding programs in place that produce high quality dogs on a consistent basis… And it's laughable to see how far behind we 'Americans' stand in terms of quality standards for the breed and sophistication. Sadly, it's very hard today for a well-qualified prospective Malinois owner to acquire a 'good' Belgian Malinois dog without going overseas. And even if you do go overseas, without the right connections, an American going dog shopping in Europe will probably encounter serious rejection due to a general consensus that exists among European breeders to avoid selling their dogs to foreigners… specially if they know they're coming from the United States.
Advancements of Work Done for the Breed
Moving forward and more recently- we have accelerated the work of the breed in the U.S., and have invested more resources to amplify the project, importing new blood… and successfully establishing foreign relationships- crucial to continue the breed's much needed work here…
Keys to Becoming a Great Breeder
Something very critical for any good breeder to have is a constant flow of fresh imported blood coming in for breeding; You want to keep your lines alive, broad and varied. And you want to avoid excessively narrowing the gene pool, which is what's happening right now with stagnant and dead lines imported many years ago….When the breed is hard to find like it is now- what tends to happen is that breeders (Note: we have nothing against other breeders and we respect their work) that have typically never traveled outside their state- resort to inbreeding within their limited stock or with whatever is available from other people they know in the U.S. …and the puppies produced are then sold to other breeders and when they grow they are bred again within that same gene-pool of friends and friends of breeders…That's NO BUENO MY FRIEND..  It doesn't matter if they have AKC or not, it doesn't matter if there were 50 champions in the lineage a million years ago, what really matters is what the lines have become ever since, how they look, and what you can do with them now. Not doing this will lead you to breed the infamous "TABM's", an acronym used for the 'Typical American Bred Malinois'…a puppy that is deplorable by foreign standards.
A TABM Puppy
A "Typical American Bred Malinois" puppy often has a dull yellow coat, thin bones, undersized paws, frail looking body, with a half-fast and barely noticeable black mask, ears that barely stay up…and many times so sensitive and scared of everything- hence making it a dog with no useful purpose. An example of this was found online and is attached below.
Example of a (TABM) 'Typical American Bred Malinois' (NOT Our Puppy)
You can see how puppy advertised on the picture above doesn't have a well-pronounced face mask. Its actually very light and almost faded away. The mask doesn't go past the eyes. Coat color is also very light and yellow and lacks sophistication. The only thing that we can not tell from the picture is the puppy's temperament. We have high hopes that its temperament is highly, highly optimized to make up for its physical lacking- because from the picture alone we can tell that this is a very ill-looking and bad-bred Malinois puppy. In contrast check this puppy below. An Exemplary Specimen of Ours…This picture was sent to us by proud owner, Jane- from Brentwood, California… Not only will you see physical beauty, but also a nice structure and solid temperament, typical of our DarkFace Malinois Lines. Here's another photo of him that was sent to us from Jane after his graduation from basic obedience class. Jane states that puppy easily picked up the commands and passed the whole program in a very short time. Other adult specimens of ours below… Father and Son. Part 2: As you see our work above, you will notice our dogs are physically very well-bred. Now, a physically well-bred and well-formed dog is only half of the story. A dog with a good temperament that is not sensitive, scared or thin nerved is also very important. A dog that is confident and protective of you without being aggressive is what you want. And yes, how you raise a pup will also contribute to whether a dog will be thin nerved and scared or confident and protective…this is the 'Nature Vs. Nurture' debate…however no amount of 'nurture' and 'properly raising a dog' can bring out a more confident and protective animal than what's already predisposed by its genetic factors, in other words, you can't make him/her more protective, courageous, and confident than what his genetic and brain chemistry dictates. I have a close friend who has 3 Malinois in Hawaii and swears by them. I have heard nothing but great things about this breed. I grew up with 2 big Akita females and loved them. We never had to worry about our family or house with them. They were family! Now I am 28 with a 6 year old son and a beautiful girlfriend who I want to have the same experience I had. I have done quite a bit of research on this breed and have talked to my friend in detail about these dogs. She has warned me that they do need to be mentally stimulated as well as physical daily exercise. We are an active family and enjoy to travel to the mountains to camp and hike. I feel a Malinois is the perfect breed to join us in the truck and be part of the family. -Taizen from Arizona
 

What We Look For in A Good Belgian MalinoisCandidate
What we look for in good homes and prospective candidates for any of our puppies is a well researched person and someone who is passionate about owning a Belgian Malinois. In most cases they are the type of persons that has done all their research on the breed, seen all videos, read every single article written about them, and have spent countless hours every night watching Malinois videos and dog training materials. They have most likely Googled and researched everything about the breed, and are interested in acquiring more than just a 'pet' but rather are looking for a lively, fun, high activity partner and/or a PTSD therapy companion. We typically choose those homes because they show commitment in choosing the right breed by investing serious thought and effort into it. And we also choose those homes because the reputation, health and integrity of our breed is dependent on who owns them, and we only want new owners with knowledge who will zealously keep the breed wholesome and intact.
Questionnaire to Acquire a Belgian Malinois Puppy of Ours
If you have done all of your research on the breed, and feel you are ready to take the next step, fill out our 10 Point Questionnaire and you will stay info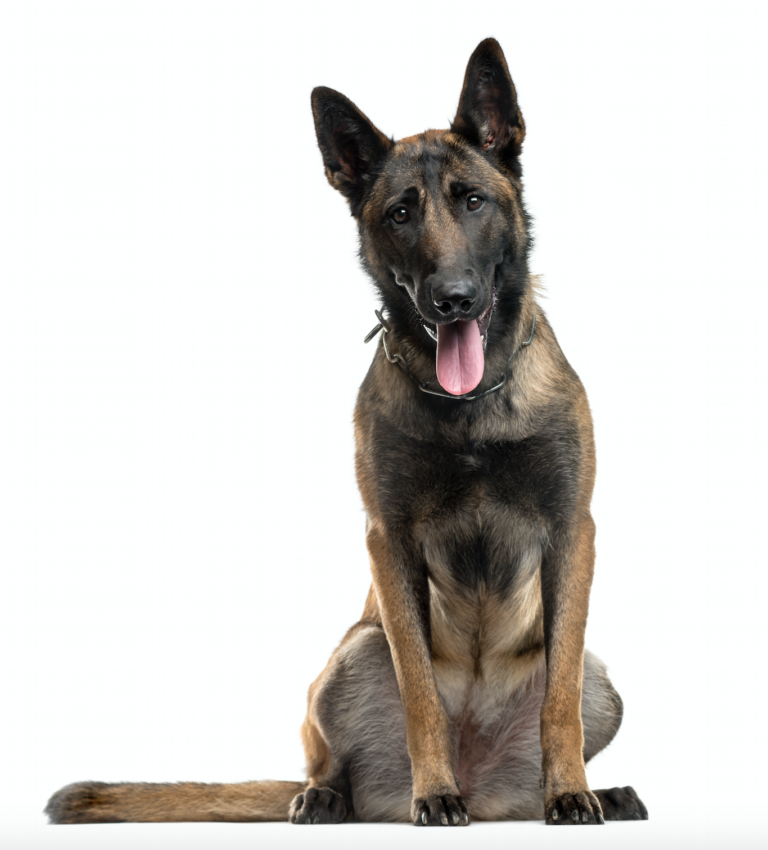 rmed of puppies planned for 2014. This questionnaire will be like a quick interview that will tell us a little about you to help us make the selection process smoother and more accurate between a puppy and its future handler. The particular type of puppy that you'll be limited to if you have no prior experience with the Belgian Malinois, will be a 'civilian tempered' puppy and will generally serve better for personal therapy / companion and civilian protection purposes. Working tempered puppies and first picks of the litter are reserved for professionals, and for working purposes only. Note: We are not 'ELITIST' who keep the breed 'OFFLIMITS' from capable handlers, nor do we like treating people who want a compatible high activity dog as 'CHILDREN' incapable of making their own decisions and judgements. We don't make exaggerated claims of the breed being a GSD on 'METH' (Yes Malinois are high energy, and that's a generalization…, and yes there is a spectrum and a range of energy levels, where some are lower than others, and some are WAY over the top…. and we acknowledge and factor that when choosing the right handler for each puppy.). Usually this propaganda and scare tactic is used to keep away 'UNINFORMED', 'UNEDUCATED', 'UN-COMMITTED', 'UNSERIOUS', 'IGNORANT", 'PET SEEKERS'…And keeping them away from the breed is of course our intention as well…But we prefer EDUCATION, INFORMATION and KNOWLEDGE, as a better tool rather than the fear and propaganda frequently employed… And the truth is that many well-informed physically active civilian homes report to us having a great relationship with their Malinois and it being the best dog experience they've ever had. And as responsible dog handlers, we ofcourse will not place a HIGH ENERGY WORKING TEMPERAMENT MALINOIS with an 80 year old grandma looking for a lap dog. Every dog has it's proper role according to its temperament. You get the point!
"We have decided upon the the Belgian Malinois because we want a guard dog who will be loyal to and protective of our family (we have 3 children) and an active and smart dog who can accompany us on our vacations and day trips (our favorite place to go is the mountains) as well as on our daily/weekly runs and hikes. The longevity of the Malinois as well as the good health of the breed was also a main factor. The Malinois is also a very beautiful and unique dog. We considered a German Shepard, but felt that the size and the shorter hair of the Malinois would be more suitable since the dog will be welcome inside the home."  -Michelle from Techapi, California
Continue reading and enjoy our puppy photos on your way down   All interested homes should start by filling out our 10 Point Questionnaire to be considered. We are also commonly known via referrals and 'word of mouth' within the military community due to our experience supplying Malinois for both PTSD therapy and working purposes.  Black Belgian Malinois Puppies For Sale in Northern California   Video of an Available Belgian Malinois Puppy for Sale in Southern California Intensity Levels on a Malinois For the Malinois breed, there is an intensity scale. And on that scale you measure the puppy's intensity levels from one to ten. And depending on the scale's intensity levels for that puppy, you determine what type of role would best fit that Malinois puppy. Lower intensity Malinois puppies such as a level three or four or five do better with civilian, beginners and for PTSD therapy roles. Levels five, six and seven are better for experienced previous GSD or Malinois owners, since they are more intense. A level eight or nine or ten puppy are only for full time working purposes and professionals. Some Malinois puppies are VERY driven and high energy that they would be considered a level eleven, twelve or even thirteen!…that's how intense they are. Most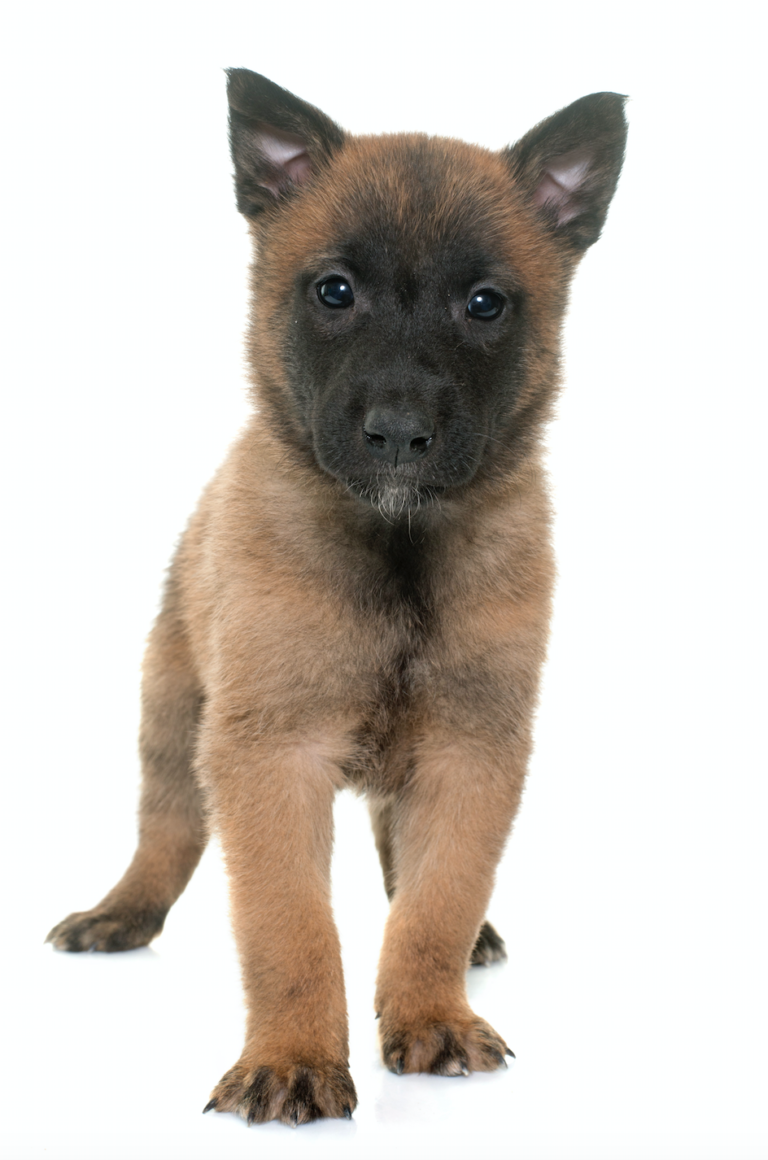 Malinois puppies, about, 70 %, are usually between eight and thirteen on the intensity scale and are ideal solely for working purposes. The other 20% of Malinois puppies are between five and eight on the intensity scale. And the rest, 10%, are between three or four or five. It's very rare to find a Malinois with a lower intensity levels than a three, virtually non existent.
Discovering Your Puppy's Role
When you're looking for a Malinois puppy, you first have to know your puppy's purpose. What do plan to do with this Belgian Malinois puppy? What will be its role? Do you want to raise as a therapy dog? As a jogging partner? As a volunteer search and rescue member? As a personal protection dog? The answer to these questions are important. Scroll down past pictures…
How To Choose The Right Puppy For You
After you determine your puppy's desired role, you need to identify a Malinois puppy that is capable of fitting into that role. And you identify the right puppy by performing various puppy personality tests. You will learn a lot when performing these tests. You'll discover puppy's dominance levels, energy levels, temperament levels, social qualities, and more.. Nothing can better determine if a puppy is suitable for you more than this. No amount of online puppy descriptions you read, or puppy videos and/or pictures can give you the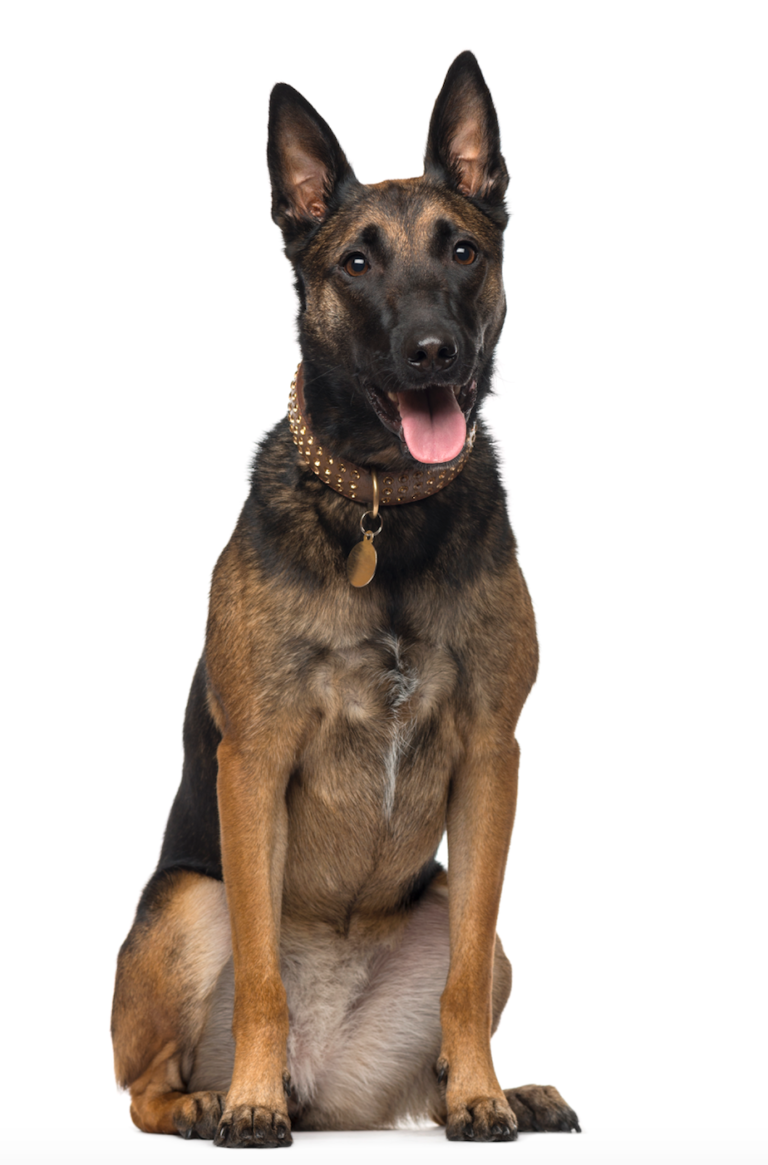 amount and quality of real, live feedback that you obtain by being in the presence of the puppy. Below there is additional information of available Malinois puppies and descriptions. Side note: Below there's a video that you might enjoy watching. It's the new Chevy 2014 commercial that illustrates the life of a puppy and it's owner all the way through adulthood. You should really watch it. This video will set the tone for your puppy searching journey and will help you have the right mindset throughout. It's also a reminder that this Malinois puppy that you're looking to acquire will share with you many memories that will last a lifetime, and that it's wise to invest time and effort to make it right the first time. ————————————————————————————————-
Belgian Malinois Puppies for Sale in California
Our puppy pictures below will testify to you the quality of specimen which we train and work with. Look at the pictures in detail and notice their eyes, their noses, and ears… Notice their black faces and markings… See the size of their paws, their structure and posture. We're only dedicated to work with the Malinois and believe that this is the best breed all-around for working purposes and some select few for civilian life, after pre-selecting their temperament and personality.
AKC Belgian Malinois Breeders in California
We have arranged most of our breeding dogs in co-own agreements which gives us direct control over the breeding of the dogs. All of these are Belgian Malinois dogs that we have imported/bred and sold to local K9 handlers. We have in Northern California (San Francisco Bay – Sacramento area) in Southern California (Los Angeles – San Diego), and out of state with K9 handlers in Las Vegas Nevada, Phoenix Arizona, and Medford Oregon.
Inquire to learn more about our co-own programs. Note: We currently are seeking for the right K9 handler in the Seattle, Washington area for a high drive working dog scheduled to be imported. Fill out questionnaire.
All K9 handlers in our co-own programs are professionals with years of experience… well screened and chosen as partners.
We believe that this is the best manner in which to allow all of our Malinois dogs to get dedicated personal one to one attention and training by professional K9 handlers and be provided with active purposeful roles, rather than all being stored inactive in a kennel.
Most of our Sires and Dams are Direct Imports from France, Germany, Belgium & Czech Republic. All imported, chosen and bred for Physical Beauty and Temperament Stability (with a greater emphasis on the latter). Prod[clickfunnels_embed height="990″ url="https://puppies.puremalinois.com/optin" scroll="no"]ucers of dogs with Great Nerves, Great Confidence, That are Protective, Friendly, and have On and Off Switches.
Desired Color Coat Variations like Red Fawn, Red Mahogany, Black Tips and Full Black Coats are available depending on breeding or importing agenda.
Full Face Black Masks (Forehead to Muzzle) Markings and Black Chest/Underbody Fur Layer are also very desireable attributes that we work with.
All dogs Meet All AKC & International Standards for the Breed, Pedigreed and Registered with AKC and are only placed with limited registration no-breeding contracts (unless otherwise discussed). Option to not obtain AKC registration may result in lower costs.
Puppies will be Microchipped, Tattooed, Fully Immuned come with a Health Certificate as well as a Health Guarantee. When submitting our 10 Point Questionnaire you will state your preference in terms of coat coloring desired, temperament sought and pedigree registration preference to inform you when we breed our Sires/Dams with those characteristics you desire..
Holistic Healthcare and No Vaccination Policy
We have pride in using ONLY holistic health practices with our dogs, personal and working. We rarely vaccinate our dogs (except as required by law), we practice BARF/Raw feeding with our permanent dogs and use homeopathic herbal dewormers. Our dogs have been ever healthier and higher performing than ever- which testifies that holistic health practices are as effective or more so than the conventional drug/chemical based route. We support holistic veterinarians! We are always ahead of our game practicing the best natural healthcare protocols.
New Owner Interview Process
A Screening and Interview Process for Prospective Candidates is always followed to Ensure Proper Placement of each Specimen. We take pride in selecting where one puppy, product of our hard work and dedication will go. These are not cheap Malinois puppies bred without thought. A lot of effort goes into importing stock, breeding, training, titling, competing, researching and additional planning, orchestrating, and managing to make this happen. And being fair only expect to pay for the quality you'll be getting. No more. And have in mind that you will not only acquire an exemplary specimen, but also our knowledge, expertise, dedication and philosophy standards all which are incomparable. First-Time Malinois Owners are Considered on Case by Case basis.
The following paragraph is for the Bings and the Yahoos and the Googles of the World Wide Web: Belgian Malinois puppies for sale in San Francisco Bay Area – Sacramento region in Northern California. In Southern California for San Diego and Las Vegas regions Belgian Malinois puppies available for sale are located in Los Angeles Southland region. Belgian Malinois Puppies for Sale and Adoption in California. Additional Optional Add-ons:
Puppy Package Add-on #1: Ten Week Basic Obedience Dog Training Package, Sixteen Week Advanced Obedience Dog Training Package, One Brand New Large Crate, One 2 lb Food, One Kong Toy, One Stainless Food Bowl, One Stainless Water Bowl, One Leather Leash, One Leather Collar, One 'Your Puppy 8 Weeks to 8 Months' New Dog Owners DVD. Price $1,599.
Puppy Package Add-on #2: Ten Week Basic Obedience Dog Training Package. One 2 lb Food, One Kong Toy, One Stainless Food Bowl, One Stainless Water Bowl, One Leather Leash, One Leather Collar, One 'Your Puppy 8 Weeks to 8 Months' New Dog Owners DVD. Price $899.
All information here is only for informational purposes and can be changed, updated, superseded or rescinded at any time. No other guarantees expressed or implied. Puppies guaranteed to be free from any manifested contagious disease until the 15th day after the day of delivery or pickup. If puppy is found with a manifested disease within 15 days of delivery or pickup it will be replaced with a new puppy. Ethical breeding and training standards practiced.
Dog Training Available
Dog training is very essential for a Malinois dog. It not only trains the dog, but also the dog owner. Not training your Malinois can lead to a misbehaved companion. In the following you'll find a listed directory of recommended Dog Trainers in your area that are able to help you get started. Feel free to contact them via their site (FYI: We have arranged discounted training rates with most of our friends and fellow dog trainers displayed below which will save you money if purchased through us at the time of acquiring your new Malinois puppy). Inquire with us for details by submitting puppy questionnaire.
Not everyone is suitable for a Malinois puppy.  Further, the whole reputation of the breed is dependent on who owns them. Therefore choosing their new homes is of critical importance. Retired Military looking to own a Malinois for their homes are routinely preferred. Upon return home, a fond memory and melancholy sentiment for the breed sets in and in many cases doctors and/or psychologist prescribe a therapy dog to help cope with the effects of PTSD.  The main focus is to protect the Belgian Malinois breed by only placing with individuals truly committed to a dog regarded worldwide as the 'King of All Dog Breeds'. Therefore having great appreciation and admiration for the breed is a requirement.  ————————————————-
Characteristics of a Malinois
Size and Weight A Belgian Malinois is a medium sized dog with a square and well-balanced body structure. The Malinois has a short low-maintenance coat with a dark black face mask. It has set of black erect ears. It's body build is smaller than a German Shepherd. Malinois males being 65-75lbs and Malinois females being 55-66lbs. The height of males is 26-26 inches and female's height is 22-24 inches. They are known as being very easy to train due to their high drive for rewards. ————————————————-
Ideal Profile of a Good Malinois Candidate
You: A Retired Military, an Active Family OR an Active Single Man/Woman Who's Looking For Security, Protection, Property Guardianship, An Emotional Support Dog, Personal Therapy Dog, Exercise, Companionship, A Bonding Human-Dog Relationship, A Smart Easy to Train Dog, A Loyal Partner, A Better Alternative to the German Shepherd Who has Interests In Any Of The Following Activities: Obedience Dog Training, Dog Volunteer Activities, Dog Sports (Hobby or Professional Level), Search & Rescue, Therapy Training, Hiking, Homesteading, Personal Protection, Hunting, Mountain Sports, Snow Sports, Water Sports, Traveling And has Done the Following: Researched The Breed, Researched its History and Origins, Researched its Characteristics, Researched Best Training Practices and Techniques, Fenced your Property, Factored Dog Ownership Costs into your Finances, Discussed with Spouse, Children and/or Other Important Family Members
If you seem to meet above criteria its advisable that you fill and submit electronic questionnaire.  ————————————————- 8 weeks old. Reference names of Carl, Sigmund and Maslow. Laid back. Mahogany and Light Yellow/Blonde colors. Large paws. Conforms to AKC standards for the breed. Parents registered. Puppy registration optional. Working parents, they are pictured above on last pictures. Pups not for high intensity police work. For family/personal service/protection purposes. Fully dewormed and Immuned. Can be walked out in public already at 9 weeks. No quarantine required. Holistic and natural practices are followed. Vaccinations and toxic chemical dewormers were avoided. Beware of acquiring a Malinois puppy with high drives, high intensity and high energy for non-police purposes. It's not what you want for a personal companion/service animal. Enthusiastic individual or family that has/have grown fanatics of the breed are preferred. Good for outdoorsy lifestyles, jogging companion, hiking, volunteer search and rescue. Great prospects for PTSD (Post Traumatic Stress Disorder) for veterans or for other trained assisted living. Very good temperament and attitude for the civilian life. Below you will find questionnaire to apply or call for details (415)506-nine.four.six.seven             Specializing in the breeding and training of detecting working Malinois. Screened puppies that are suitable and manageable for household protection and other civilian uses are only made available to the public. Not everyone is suitable for a Malinois puppy.  The whole reputation of the breed is dependent on who owns them so you bet we're pretty selective. Retired Military looking to own a Malinois for their home are given preference. Most soldiers return home with a fond memory of the breed and decide to acquire one for personal use. Additionally the experience they obtained by handling a Malinois directly or working side-by-side with a Malinois dog handler makes this an ideal fit. Malinois puppies offered are ideal for companion/service or a Part-Time-Work/Part-Time companion. Attention is placed where puppies are placed to. To protect the breed, candidates for each puppy are selected. It's our duty for Malinois owners to protect this beautiful breed and to have them placed in homes where they are being cared for properly and treated with love and respect. Local Pickup preferred. No shipping. Personal transportation of puppy to the right home in the Livermore, Los Banos, Patterson or Manteca (California) area with a 10%  non-refundable deposit. Los Angeles, San Diego, Las Vegas and Phoenix  homes can arrange for a Friday or Saturday personal meet and greet in Los Angeles. $40 Delivery to Stockton, Modesto (California). $140 Delivery to Sacramento, San Francisco, Palo Alto, Sunnyvale, Redwood City, Concord, Pittsburg, Vallejo, San Jose, Oakland, Fremont, Novato, Tiburon and the rest of the Bay Area (California). $190 Delivery to Santa Rosa, Merced, Fresno, Santa Cruz, Gilroy, Salinas, Monterey. $290 Delivery to Bakersfield, Los Angeles Airport (LAX Area), Redding, Reno (Nevada). $440 Delivery San Diego (California). $550 Delivery to Las Vegas (Nevada). $700 Delivery to Portland (Oregon), Boise (Idaho), Phoenix (Arizona), Salt Lake City (Utah). $850 Delivery to Seattle (Washington). $950 Delivery to Vancouver (Canada), Denver (Colorado), Albuquerque (New Mexico). Characteristics of a Malinois Size and Weight A Belgian Malinois is a medium sized dog with a square and well-balanced body structure. The Malinois has a short mahogany coat with a dark black face mask. It has set of black erect ears. It's body build is slightly smaller than a German Shepherd. We are talking Malinois males being 65-75lbs and Malinois females being 55-66lbs. The height of males is 26-26 inches and female's height is 22-24 inches. They are known as being very easy to train due to their high drive for rewards.
Get Total Security
Get A Fun, Adaptive, Versatile Companion
Someone You Can Exercise, Run, Play, Hike and Travel With
Elegant Yet Low-Maintenance- Little to No Grooming Required
Lighter, Healthier and Sharper than a Full-Sized German Shepherd
A Loyal Friend Capable of Giving it's Life to Protect You and Your Loved Ones
Belgian Malinois Puppies For Sale in California. U.S. West Coast and Vancouver, Canada AKC Belgian Malinois Puppies in California description Imported Lines. Pedigree, AKC/, Registered, from Working Bloodlines. with Microchip and Tattoo!, Vaccinations, Dewormed, Excellent Temperament, Beyond Admirable Qualities (Intelligence, Elegance, Obedience, and Loyalty). Easy to Train, No Hip-Dysplasia, Prefer Large Homes, Prefer Experienced Dog Owners, Good Guard Dogs (Natural Thieve Deterrents), The Dog Trainer's Breed of Choice, Hard to find in the United States, Committed First-Time Malinois Owners per Approval Basis. 15 day standard health guarantee.      Belgian Malinois Breeder in California Oregon Belgian Malinois Puppies For Sale in California. U.S. West Coast and Vancouver, Canada Obtain Total Security and Peace of Mind With a Belgian Malinois. Not Only Will a Malinois Deter Thieves from Breaking Into Your Home, But It Will Gain You the Respect and Admiration of Your Neighbors and Other Dog Owners A Natural Gatekeeper That Will Give You the Power to Control Who Enters Your Property and Who Doesn't An Accountability Partner Who Will Help You Achieve Your Fitness Goals by Providing You The Companionship and Motivation Required So That You Don't Exercise Alone A Loyal Companion That Will Always Want to Be Where You Are and Do What You Want To Do Someone You Can Run, Play, Hike and Travel With and Who Will Provide You Endless Fun, Companionship and Protection Unbribeable. Better Than Any Gun – No Permits Required. It won't jam, It can't be stolen, And the state can't take it away. Lighter & Healthier than a Full-Sized German Shepherd. "Why drive a Cadillac when you can drive a Porsche?" observed one Oxnard officer. The Cadillac here is the German shepherd–big, lumbering and powerful. The Porsche is the Belgian Malinois, a sporty European import that is light, tireless and so intense the dogs seem to vibrate. Smaller and less dour looking than a German shepherd, the Malinois cuts a dashing figure with a squarish body, sharply defined jawbone, pointy snout and straight back. J.R. Perez, a canine officer with the Oxnard police, said the two breeds simply don't compare. The Malinois is faster, more athletic and agile than the shepherd, he said. -Source: LA Times